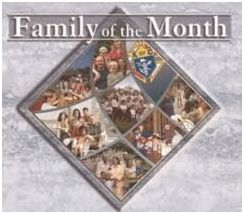 Family Of the Month
Council Family of the Month
January 2018: Deacon Ron & Bette Steinkamp


Deacon Ron Steinkamp is a 26 year Lifetime Member of the Knights of Columbus. He and his wife Bette have been giving charitable service to parishes and communities throughout their lives.
Deacon Ron took his Knights of Columbus Admission Degree on 09-15-1991. He completed his Second Degree on 03-01-1992, and his Third Degree on 02-19-1994. Both Ron and Bette are KofC insurance policy holders. He speaks very highly of the value of their Life and Long-Term-Care policies. Deacon Ron is an Assistant Chaplin in St Pius X Council 11101.
Deacon Ron became interested in the Knights of Columbus in 1973 after Roe v. Wade allowed unrestricted abortion access in the US. Ron applauds the Knights' great work as a pro-family, pro-life organization. He said, "The family as the basic unit of society needs the help and support it gets from the Knights of Columbus. The Culture of Life and Family programs of the Knights provide the medicine our country needs."
Over the years, Deacon Ron and Bette gave their home and their love to 18 foster children between infancy and middle school ages.
Deacon Ron and Bette became members of St. Pius X Parish, when he was assigned to the parish by our Bishop, effective January 9, 1999.
As our Parish Deacon, Ron's primary duties include baptism of infants, weddings, funerals and visiting the sick.
Since his own illness, Deacon Ron has continued to serve at a Mass or two every week and First Friday Eucharistic Adoration. Ron and Bette do Bible study together and they've often facilitated Bible study.
Ron and Bette are both very active in SPX RCIA. (Rite of Christian Initiation of Adults, is a process developed by the Catholic Church for prospective converts to Catholicism.)
Deacon Ron is a Charlotte Diocese Tribunal Advocate to assist to reconcile marriages through the marriage annulment process.
They have both been involved in the work of new evangelization since the 1980s, when they became involved in the Cursillo Movement... (Cursillo instructs lay people how to become effective Catholic leaders through a short course that stresses personal spiritual development accelerated by weekly group reunion.)
Bishop Jugas appointed Deacon Ron as the Charlotte Diocese Catholic Cursillo Spiritual Advisor in 2005 for a three year term.
Appointed by the bishop in 2011, Deacon Ron recently completed a five year term as the Director of Diaconate for the Charlotte Diocese. He was involved in Diaconate formation and coordinating Diocesan activities such as the annual retreat and continuing education for the approximately 120 deacons in the Charlotte Diocese.
Deacon Ron explained that our Diocese needs more permanent Deacons. Once every two years, there is a Diocesan two year Lay Ministry Formation Program for 20 Saturdays, from 9AM-2PM held in locations throughout the diocese. Several of our Council's Knights and their wives have taken the course. Those who are interested may register for the course on the Charlotte Diocese website. The course material includes Scripture, Sacraments, Church history, Morality, Christology and Mariology. Deacon Ron strongly encourages participation in the Lay Ministry course, either as a prerequisite to applying for Diaconate formation or as a spiritual formation program. He and his wife completed the first session of this program in 1992.
Bette is a 20 year associate member of the Sisters of the Poor Servants of Mother of God at Maryfield at Pennybyrn, where she and Deacon Ron frequently spend time and minister with that community.
Their favorite Knights' activities are: DC March for Life, Fall Festivals, Fish Fries, SPX Donuts & Coffee, Knights' Rosaries, Knights' Christmas party, the October Pro-Life Chain on Battleground Avenue. Until recently, they've done Knights' Blood Drives ever since 1999.
We all are inspired how Deacon Ron and Bette challenged his cancer with they're incredibly strong Faith and the help of our prayers, that led to his miraculous recovery. He needs our prayers again as he is scheduled for cancer surgery on January 5. Please keep Deacon Ron and Bette in your prayers.
Deacon Ron and Bette exemplify Catholic family leadership through the evangelization of their faith, charity, unity and brotherhood. They are the January 2018 Family if the Month.
Congratulations Deacon Ron and Bette Steinkamp.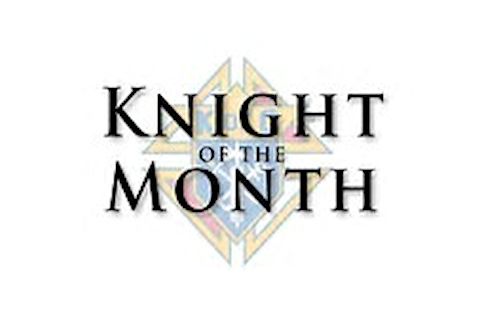 Knight Of the Month
Council Knight of the Month
January 2018 : Frank Fratoni


When asked what Frank enjoys most about the Knights, his easy response is; "Being part of a community of men that help each other live our faith in action, looking for Jesus in all of us." Frank quickly identifies as a Knight of Columbus "worker-bee", but he is an exceptionally hard worker.
Frank took his Admission Degree (First) on 11-13-1995 at Council 939. He took his Formation Degree (Second) on 12-01-1995 and his Knighthood Degree on 10-19-1996. Frank is an K of C Insurance Member, who has a Knights' Life Policy.
Encouraged by Frank, his sons Garrison and Duncan are both members of the Knights. Garrison took his Admission Degree (First) on 06-29-2015, and then took his Formation Degree (Second) on 06-16-2016. Duncan recently took his Admission Degree on 12-7-2017. They hope to both complete their Third Degree together this spring.
Frank's primary role in life is to provide for his family. He's passed on that ethic to his sons, and encourages them to put away 10 % of their earnings into savings. He hopes they will use the Knight's Annuity program and Life Insurance to help them reach their financial goals.
Frank is an IT Business Analyst at High Point University. In his past, he's been an IT Account Manager, Sales Manager and Software/Data Manager.
His favorite Council programs are:
• LAMB
• Coats for Kids
• Thanksgiving Turkeys
• Fish Fry's
• Blood Drives
• Christmas Party
• First Friday Adoration
• Knights Monthly Rosary
• Pancake Breakfasts
Frank's Mother was a great cook, so he enjoyed learning to cook at home from her. Later, he learned to cook for large groups of people at Council 939's Clubhouse, under the experienced tutelage of Roy Berninger. So, he's now really enjoying leading one of our SPX Pancake Breakfast Teams. He is very excited about our new Simmons Center kitchen's efficiency. As a Pancake Breakfast Head Chef, with lots of help from brother Knights, and the kitchen working so well, "we all look forward to it." The most recent breakfast in December was great fun, great team building. "We hope the breakfasts will recruit new members to the fun work in our brotherhood."
Here are some of Frank's other parish and community charities:
• EWTN/SPX Media volunteer: communicates EWTN notices, emails, etc. for SPX Church bulletins, and Pennyburn newsletters.
• OLG Parish Council
• Music entertainment volunteers at Stratford Retirement Home
• Donations to SPX/Urban Ministry Food bank
• Newcomer Committee cooks for luncheon
• Crop Walk
• SPX Church sound system engineer
As you can see, Frank is a very involved St Pius X Brother Knight, who provides Council service and leadership through his acts of charity, simultaneously building Parish unity and developing Council brotherhood.
Frank is the January 2018 "Knight of the Month."
Congratulations Frank!