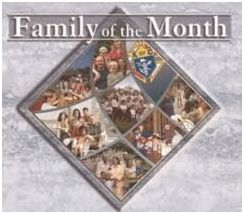 Family Of the Month
Council Family of the Month
April 2019: Stu & Dolores Ahrens


Stu and Dolores Ahrens are Council 11101 Family of the Month for April.
When Stu was getting his PhD in Nuclear Physics at the University of Wyoming, he met Dolores. Her boss at UW helped Stu get a teaching job at A&T University Greensboro, NC. Stu taught there for 30 years and loved every minute of it.
Stuart & Dolores Ahrens were married in 1967 and recently celebrated their Fiftieth Anniversary. They have two children and four grandchildren. After 20 years of marriage, Dolores helped Stu convert to Catholicism, the "best thing" he ever did.
Stu received his Knights of Columbus Admission (1st) Degree on November 16, 1999, when he joined Council 11101. He received his Formation and Knighthood (2nd & 3rd) Degrees on August 25, 2001. Stu became a Sir Knight, completing his Patriot (4th) Degree on April 24, 2010 and joined Fr. Francis Connolly Assembly 3253 at St Pius X.
Over the years Stu and Dolores have been active at many Council, Church and Community activities:
Stu was most active in the Knights of Columbus as Pancake Breakfast Director. Dolores and Stu always worked well together at the KofC monthly Pancake Breakfasts. Monsignor valued the Parish Breakfasts because he got to meet all of our new Parish families, who got free tickets to the breakfasts. They were a great opportunity for our Council and Parish to socialize and build community spirit, and a great recruiting tool for our Council. In those days we easily made our annual Council membership goals, largely because of the Pancake Breakfasts.
Dolores has been a 25 years volunteer & 10 year coordinator volunteer for Meals On Wheels, a part of Senior Resources of Guilford County. Their clients are physically and socially isolated homebound seniors.
Stu joined Dolores when he retired. Now, they are the sole coordinators for SPX Mobile Meals Team. They each spend 4-5 days a month preparing their Team of 40 permanent SPX volunteers and 35 temp SPX volunteers. They and their Team drive 20 Greensboro routes and deliver 300 meals, on the first Monday of every month. Ninety percent of their routes are in Greensboro, with about 10 % out in Guilford County.
Their delivery work begins at Peace United Church of Christ on West Market St, just past OLG. Golden Corral on Lawndale, provides one hot and one cold meal for each Meals On Wheels client.
As the sole coordinators of the SPX Team, they call all volunteers to make sure they are available for their scheduled deliveries. Stu and Dolores most value their personal relationships with volunteers and interactive conversations with their clients of homebound seniors, as the most critical element of bringing compassion to these physically and socially isolated people. Often their volunteers are First Responders. They have many stories of calling 911 to get emergency care to these lonely people. Stu and Dolores have one Client who likes to remind them, they saved her life.
If you are interested in helping them, call Stu at (336) 202-0921 or 272-2824.
Stu and Dolores are a very involved family, who provide Council leadership and service through their charity, unity and brotherhood.
Stu and Dolores are the September Knights of Columbus, "Family of the Month."
Congratulations Stu and Dolores!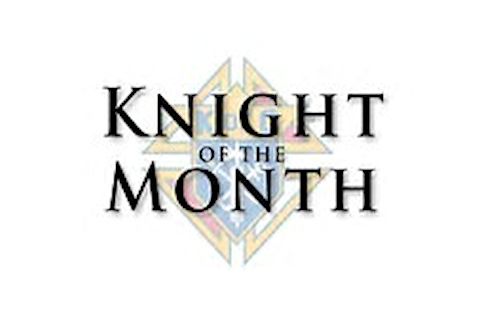 Knight Of the Month
Council Knight of the Month
April 2019 : Ed Campbell


When Ed got out of high school he immediately went into the Navy and the Korean War. 22 years later he retired as a Navy Chief Petty Officer in 1973. He worked in electronics and Aviation flight simulators.
Ed's civilian career eventually took him to Allied Signal Corporation. He gave a full measure to Allied and retired and moved to Asheboro, North Carolina in 1992. Ed said
"I was always so blessed in my work, that I wanted to give back. So I joined the Knights of Columbus."
Ed received his Knights of Columbus Admission (1st) Degree in 1992 in Asheboro Council, where he is a charter member at St Joseph's Council 10891.
He was their 4th Grand Knight and served as GK for two years in 1995-96.
In 1996 he received his Fourth Degree and began his membership with High Point Assembly, where he held all officer positions except Navigator.
Ed held all council officer positions over the years. Additionally he served as District Deputy #12 in Asheboro, Salisbury, Thomasville, Kernersville and High Point. Ed also started the Lexington Council.
He was the State Council Community Director for LAMB, Special Olympics, and other community activities.
He started the tradition of holding a 2nd & 3rd Degree on the same day that still exists in Council 939 and 13236.
Ed is a First Degree Team Captain for 25 years, where he serves as Grand Knight on the degree team. He has been involved in over 200 Degrees.
Ed is a Charter member of Fr. Francis Connolly Assembly 3253 at St Pius X.
Over the years Ed has been active at many Council, Church and Community activities: LAMB Chairman with over $10,000 in one year (still a record), Blood Drives, Belk Charity Ticket sales, and Fish Fry's…
Ed started the Knights Monthly Rosaries at SPX and Monthly Rosaries in Asheboro prior to all 3 Masses on one Sunday.
He is currently a Lector at St. Benedict's Church. He has been a lector at SPX and St. Joseph's in Asheboro.
Ed was an Extraordinary (Eucharistic) Minister at Wesley Long Hospital for eight years. He's been a Eucharistic minister at St. Joseph's in Asheboro, St. Pius X and St. Benedict's Church.
Ed is a very involved Knight who provides Council leadership and service through his charity, unity and brotherhood.
Ed is the May, Knights of Columbus, "Knight of the Month."