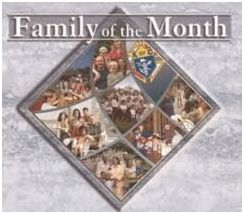 Family Of the Month
Council Family of the Month
June 2019: Dan & Laurie Allen


Dan and Laurie Allen have a very active family in the St. Pius X Council 11101 and St. Pius X Church. Dan has been in the Knights of Columbus since February 2013. He protected his family by becoming a full insurance member in the Knights of Columbus.
Dan is a former Council L.A.M.B. Director, Youth Director and Family Director. He also is our Coats for Kids Campaign organizer. Dan is also a member of the SPX Confirmation Team. Recently Dan was a Chaperone at an SPX Confirmation Retreat at Camp Merriwood. Dan and his family were frequent volunteers and high end collectors at each of our LAMB Tootsie Roll drives.
Laurie is in the SPX Handbell Choir and is a Vacation Bible School Volunteer. She held a number of SPX roles over the years: Faith Formation Teacher, Healthcare Committee Member, MOMS Ministry Leader and Nursery Team member.
Daughter Emma is an SPX Vacation Bible School Volunteer, Prayer Warrior for ill members of our church and their pets, and previously served in the SPX Children's Choir.
Their son Joseph is an SPX Altar Server, Vacation Bible School Volunteer and previously served in Children's Choir.
Daughter Lily is in the SPX Children's Choir.
As a family we assist with the Sunshine Club, A Night to Shine, Thanksgiving Baskets, Operation Lamb, The Giving Tree, and Crop Walk.
Dan and Laurie recommend families find ministries they can do together. "It allows you to spend time together as you serve Christ. Participating in the Sunshine Club over the last two years as a family has enriched our lives. We have gotten far more out of it then we have put in. We often show up at Sunshine Club weary from a long busy week and leave feeling energized and so thankful that we went. Our youngest daughter was very shy at first but each month her comfort level and responsibilities have grown. She now happily leads bingo games and karaoke nights for the Sunshine Club members. Watching your child become more independent and enjoy serving our community, what could be better than that as a parent?"
"Our individual ministry allows us to use our personal talents and strengths but also challenges us to grow. Dan's laid-back personality and inherent silliness is a great fit for the Confirmation ministry by developing interesting and thought-provoking messages to teenagers pushes him to look for new and different ways to express our faith."
"We have so many ministries at St Pius I would urge people to serve in a ministry that speaks to their heart. As your family grows and changes the ministries that you participate in can also grow and change."
They have also recently welcomed Laurie's parents to St Pius X Parish: Bill and Jane Schroeder. Bill, a Knight for 38 years, transferred into SPX Council from Fr. William T. Mc Shea Council 9579 Morganton, NC. Over the years he has served as Grand Knight in two councils, chairman for Operation Lamb and was a founding member of the Council in London, Ky. Both have enjoyed becoming involved at the church. In addition to Knights, Bill assists serving at the monthly Senior Luncheon. Jane is part of the Purple Hat Ministry and serves on a team to assist with serving lunch after funerals.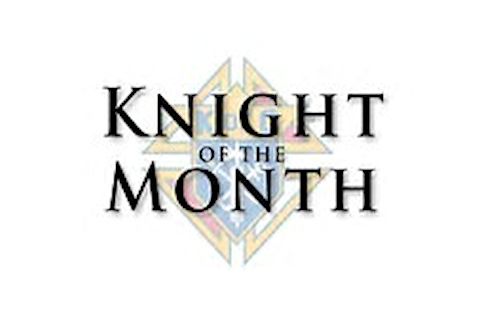 Knight Of the Month
Council Knight of the Month
June 2019 : Dan Curran


Dan Curran is Council 11101 Knight of the Month for June 2019.
Dan joined the Knights of Columbus in November 2015. He quickly received his Second and Third Degrees in the spring of 2016. In February this year, Dan became a Sir Knight at our SPX Fourth Degree Exemplification.
Dan is very active in our Church and Council activities.
Dan is a Pancake Breakfast Team Leader. Dan loves competing with the other two teams, as he works to build the camaraderie and brotherhood of the Parish breakfasts.
Dan is a leader in our parish Bible study program. Under Deacon Ron's guidance, he and Ben York started by giving a class on St Matthew's Gospels. For Dan, those early classes, grew into a 24 month Bible Timeline course, and eventually courses about all Four Evangelists and others.
Years ago, Deacon Ron & Bette Steinkamp were the early organizers of our Parish Bible Study program. They enlisted Dan, John Arsenault, Ben & Alice Yorks. Our current Bible Study facilitators also include Mary Colanero, Alice Yorks, Dale Hilliard, Deb Ritzel and Geri McComb.
Currently, the SPX Bible Study program is managed by Lindsay Kohl, St Pius X Director of Formational Ministries.
Recent Bible Study classes are:
Lectio: Eucharist
Wisdom: God's Vision for Life
Ephesians: Discover Your Inheritance
Psalms: The School of Prayer
If you have questions about SPX Bible Study refer to: http://www.stpiusxnc.com/bible-study
In his early professional life, Dan taught and coached football & basketball for 4 years at Eli Whitney Middle School in Chapel Hill, and later at Aycock Middle School. One of Dan's favorite stories is how his raga-muffin country football team of 17 poorly outfitted players, beat Mendenhall's well equipped team of 44 suburban school kids. Dan loved being part of that underdog winning competition.
He later worked at their family business manufacturing custom upholstered furniture for interior designers. Their family business ran from 1959 to 2017, and employed 25 people. At age 71, Dan decided to retire and devote his time to our Church. Dan is a Confirmation sponsor & discussion facilitator for 7th & 8th grade. He also gives RCIA faith formation classes for 7th & 8th grade for 65 - 80 students per class. Dan said, SPX needs more Faith Formation help, especially from parents with children in the 7th & 8th grade. If you are interested in helping, please contact Lindsay Kohl. 336-272-4681 or lkohl@stpiusxnc.com
Dan also works at Potter's House, an Urban Ministry kitchen that feeds 500 homeless men and women lunch each day. They also serve an evening meal for the 80 homeless, who stay there overnight. St Pius X has a team of parishioners, who serve that evening meal on the 3rd Friday of every month. If interested use the signup genie link: http://www.signupgenius.com/go/10C0B4BAFAF22A64-3rdfriday
Dan recently accepted the position of Director of Life programs for our SPX Council.
Dan enjoys the fraternal camaraderie in the Knights of Columbus, and we are much honored to have Dan in our Council of Brothers.
Dan is our June 2019, Knights of Columbus, "Knight of the Month."