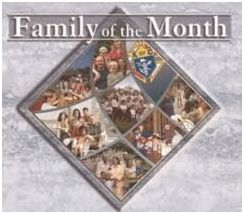 Family Of the Month
Council Family of the Month
February 2019: Tom & Mary Martin


Mary was born in Roanoke, Va. and baptized at St. Andrews Catholic Church there. Her family moved to Greensboro when she was six. Their five children attended St. Pius X school and Notre Dame High School, which closed in 1968. She was part of the first class to attend St. Pius School from 1st to 8th grade.
Mary's parents, Frank and Addie Hoyng, were founding members of St. Pius X Church. Mary's first Communion and Confirmation were at St. Pius X.
Tom and Mary met at UNCG. They were married at St. Pius X in 1971. During their wedding a basketball game went into triple overtime in the gym above the church as the organist played below.
Tom was born in Burlington, NC. His family moved to Greensboro when he was in the 3rd grade. He was raised in the Baptist Church but converted to Catholicism in 1984.
Mary retired after 32 years with Guilford County Schools as a Teacher, Principal and Administrator.
Tom is a former Planning Director for the City of Greensboro.
Mary and Tom help with SPX funerals. Mary and her special friend Mary Jean McCook cover the 3:00-4:00 opportunity for adoration on First Fridays.
Tom is a past Parish Council member at both St. Pius and St. Paul's.
Tom is a former Eucharistic Minister, altar server and lector. Mary served as a Eucharistic Minister for 25 years and takes Communion to people who can't get to church. She is enjoying her 11th Bible Study with Ben and Alice York (heroes in faith at SPX) and loves the knowledge and relationships developed there.
Both Tom and Mary attend daily Mass and feel a special connection to that group which supports each other in everything…good times and bad.
Tom was the SPX Building Committee Chairman for the construction of our new church, Simmons Parish Center and DeJoy Primary Education Center and renovations of the original school (12 plus years).
Tom formed a special relationship with the students at St Pius while he was on campus so much during construction. The students dubbed him "Too Tall & Tall Tom". He continues to help out at SPX school.
Tom has been a SPX Usher for 30 years. He is the head usher at 7:30 AM Sunday Mass and a member of the Offertory Counting Committee.
Tom is a Knight of Malta, and has sponsored individuals for Confirmation and RCIA. He delivers meals to Dolan Manor and helps with special dinners there.
Tom is active in community with the Sports Council, GGO/ Wyndham Championship, UNCG, Historical Museum, Carolina Theatre, etc.
Tom and Mary said, "Our Faith and St Pius X mean everything to us. We are so blessed."
Tom & Mary Martin are the February St Pius X "Family of the Month". Congratulations to Tom and Mary Martin!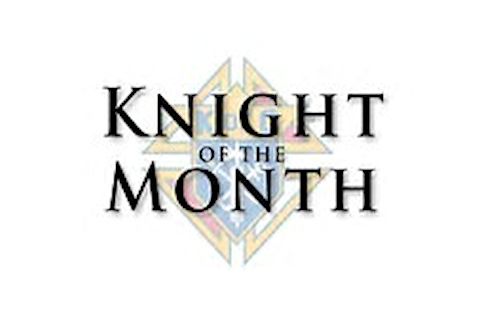 Knight Of the Month
Council Knight of the Month
February 2019 : Mark Garland


Mark's family is from New Orleans. His father was an Army officer, so they moved a lot. Mark was born in Alexandria, VA and grew up in Columbus, GA.
Mark is a cradle Catholic, who was away from his faith for 20 years, until he met his wife, Yvette. They met in Gainesville, Florida, where they married in 2005.
Mark took his 1st degree with the Knights of Columbus in 2006 at Holy Family Council 11784 in Williston, Florida, where he also took his 2nd and 3rd degrees in 2008.
Mark and Yvette moved to Greensboro in 2010. They joined St Pius X parish in 2017 and SPX Council 11101 the same year.
Mark loves the outdoors and is really happy exploring natural areas. His favorite food is red beans and rice. It's a Na' Lins thing.
Mark occasionally helps his wife, Yvette's prison ministry in Winston-Salem and her work as a Stephen Minister for Greensboro Urban Ministries, where she organizes Masses, Communion services, and Catechesis for Hispanic prisoners in Winston-Salem, with Deacon Bob Desautels at St. Leo the Great. Right now she is preparing their Confirmation classes.
The Stephen Ministry is an interdenominational ministry that helps Greensboro Urban Ministries. Yvette is assigned a homeless family to help spiritually and sometimes physically as well.
Mark has been a very active Church member:
--Lector at Holy Family in Williston, Florida, St. Mary's in Greensboro, and Christ the King in High Point
--Taught confirmation class at Christ the King, High Point
--Legion of Mary, St. Mary's
--Diocesan Lay Ministry program 2016-2018
Mark became our Council Recorder in 2018, and he really enjoyed his role as MC at our Council Christmas party this year.
Please congratulate Mark when you see him for being our February Knight of the Month.