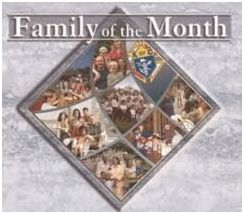 Family Of the Month
Council Family of the Month
December 2018: Carl & Barbara Dyer


Carl received his Knights of Columbus first three degrees in short order. Carl joined St Pius X Council and received his First Degree on 7/21/12. Then he received his Second Degree on 10/15/12, and received his Third Degree on 12/1/12. Carl joined Assembly 3253 when he received his Fourth Degree on 11/15/14.
Carl and Barbara are retired university professors, each having served over the years as directors of university centers and as department chairs. Both have been published in top research journals in their respective fields of international trade/textile economics and business marketing. They have four children. Their oldest son is a senior computer systems analyst for Volvo (Greensboro); their second son is an executive manager for Merz Pharmaceuticals (Raleigh); their oldest daughter is a sales manager in real estate (Charlotte); and their second daughter is a senior manager at Cigna Medicare (Chattanooga). Carl and Barbara have eight grandchildren and one great-grandchild.
After working in North Carolina, Tennessee, Ohio, and Florida, Carl and Barbara chose to retire to Greensboro in 2011. Their joint decision for a retirement focus was growing their faith and sharing this with their children and grandchildren. To this end, they selected Pius the Tenth as their home parish (Barbara, a native of Greensboro, was baptized and confirmed at Our Lady of Grace). Carl began RCIA in 2011 and joined the Church in April of 2012.
Since retiring, Knights of Columbus has been an important part of living the faith for Carl. He has served as both Warden and Advocate of the Council. During his time in Knights, he has participated in a variety of charity programs, including LAMB, the blood drives, pancake breakfasts, the annual fish fry, etc.
Carl and Barbara joined the Cursillo movement in 2014, and this has been a strong component of their faith journey. Through Cursillo, which encourages members to live and share their weekly commitment to Christian piety, study, and apostolic action, they have attended weekly meetings with their friends from St. Pius the Tenth, as well as monthly Greensboro-wide meetings, for years. Barbara has also worked three out of four of the women's retreat weekends since 2014. Carl and Barbara travel to celebrate men's and women's retreats within the diocese when possible.
Education has been a giving and receiving component of their retirement faith journey. 2014 through 2016 Carl and Barbara participated in Lay Ministry, a program that provides in-depth understanding of the Church's theology, traditions, moral teachings, history, and Counsels. More importantly, Lay Ministry provides a springboard for spreading the good news. Carl and Barbara have used this springboard to be both facilitators and participants in multiple Bible studies at St. Pius the Tenth and at St. Paul the Apostle.
In 2017 Carl and Barbara made a pilgrimage with the diocesan Lay Ministry group to the Holy Land. In 2017-2018 they participated in Lay Ministry II, studying the Church Fathers.
Carl and Barbara began and have supported a special devotion to Our Lady, the Hearts and Hands of Mary ministry at St. Pius the Tenth. They also facilitated several groups, here at St. Pius the Tenth and at Maryfield in High Point, to pursue consecration to Jesus through Mary via the 30 Days to Morning Glory retreat. In 2015-2016 they joined the JustFaith movement at the Franciscan Center and have volunteered with the Out of the Garden ministry. They have a particular interest in supporting food for the poor through Greensboro Urban Ministry and providing for unwed mothers through Room at the Inn. Barbara serves as Eucharistic Minister at St. Pius the Tenth. Carl and Barbara treasure their St. Pius/KOC community and the faith that has given them so much!
Carl and Barbara are a very involved family, who provide Council leadership and service through their faith, charity and brotherhood.
Carl and Barbara are the September Knights of Columbus, "Family of the Month."
Congratulations to Carl and Barbara Dyer!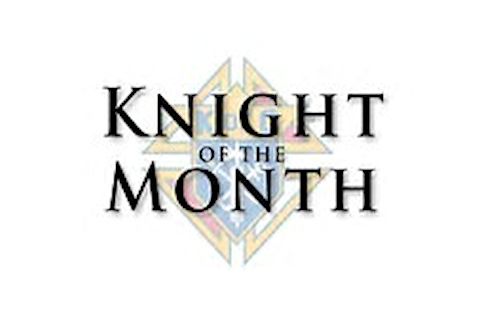 Knight Of the Month
Council Knight of the Month
December 2018 : Chris Mierez


Chris took his Knights of Columbus Admission Degree in May 1982. He is an active Fourth Degree Sir Knight.
Chris was a Grand Knight for 7 years at St Justin's Council 8011 in Hartford, CT. Chris also served as a Lector for many years at St Justin's Parish.
He was the Faithful Navigator at Bishop McMahon Fourth Degree Assembly in Hartford.
Additionally he served as the District Deputy in the Hartford district for 5 years.
Chris is a very busy parishioner of St Pius X Church and SPX Council volunteer.
Here are some of his favorite volunteer activities:
-Council Rosary leader
-Council Church Program Director
-Christmas Party Chairman
-Member of SPX Parish Council
Chris organizes and leads all of our Second Sunday monthly Rosaries and our Fifth Sunday Rosaries, that are said four times each year.
Chris is also an SPX Usher.
Chris represents St. Pius X at HOT DISH & HOPE where they feed the poor on the 3rd Thursday of the month at First Presbyterian church on N. Elm St.
Chris received Certification in the Charlotte Diocese Lay Ministry two year course.
Chris Mierez exemplifies the leadership in service of our charity, unity and brotherhood, necessary to be considered a Knights of Columbus "Knight of the Month."
Congratulations Brother Chris Mierez !!!